Ultrafast broadband plans for Edinburgh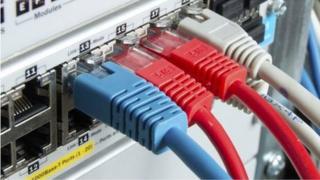 Edinburgh will be one of the first cities to benefit from ultrafast broadband expansion proposals.
The broadband infrastructure provider Openreach is accelerating plans to build Fibre to the Premises (FTTP) to three million premises by 2020.
Edinburgh will be one of eight cities connected in the first phase of Openreach's Fibre First programme.
Bristol, Birmingham, Cardiff, Leeds, Liverpool, London and Manchester are also in the programme.
FTTP connections can deliver ultrafast speeds of between 100 megabits and one gigabit per second.
Gavin Barrie, convener of the housing and economy committee at City of Edinburgh Council, said: "I'm delighted that Edinburgh has been selected as one of the first UK cities to benefit from Openreach's Fibre First programme.
"A world-class city deserves world-class digital infrastructure, and we believe full-fibre technology will be key to unlocking the long-term productivity of businesses in this region."
Boost to business
Openreach expects that tens of thousands of Edinburgh homes and businesses will benefit from the multimillion-pound expansion, which is expected to cost about £300-£400 per home.
Further details of the rollout are expected to be announced later in the year.
Andrew Hepburn, Openreach's director of infrastructure delivery in Scotland, said: "This latest multimillion-pound investment in Edinburgh by Openreach will give a vital boost to the city's households and businesses.
"For our vibrant business community, which is known for its innovation, it will mean more firms benefiting from the huge opportunities offered by this exciting technology to attract new customers, provide new services and work more efficiently.
"Local households too will find ultrafast broadband a major step forward when they go online for reasons ranging from training and research to shopping, staying in touch with friends and family and entertainment."
Openreach said the pace and extent of the investment will depend on how quickly the conditions to enable an "acceptable return on the investment" are secured, with support needed from communication providers, central and local government and the regulator.
Alex Neill of consumer group Which, said that the UK was far behind other countries in offering high speed internet access through fibre connections directly to homes or businesses.
She said: "When you look that 79% of people in Spain have got access to full fibre and yet only 3% of British homes have, clearly consumers will be asking why that is happening, especially when the majority of them have experienced a problem with their broadband in the last year."