Former East Lothian schoolboy sues over monk abuse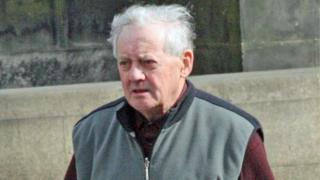 A man is suing a Catholic Church sect and East Lothian Council after being beaten and assaulted by a monk.
Michael Murphy, known as Brother Benedict, was jailed in 2016 for abusing boys at St Joseph's List D School, in Tranent, in the 1970s.
He electrocuted pupils, locked them in cupboards, beat them with canes and indecently assaulted them.
One of his victims is now seeking damages from the local authority and the De La Salle Brothers.
Lawyers for the abuse survivor, who wishes to remain anonymous, said he was seeking damages estimated at a six-figure sum for the pain caused by the former schoolmaster.
The man said: "Brother Benedict is a monster who ruined not just my childhood but my adult life - and the lives of several others who also suffered at his hands.
"He abused his position while working alongside the council and the church to fulfil his own sick desires.
"I hope now to be able to find the means to help me rebuild my life."
'Horrendous ordeal'
He was first abused by Murphy in 1973. He said he was caned, belted, stripped naked and spat on.
On one occasion he was held in a dark room and beaten until he blacked out.
Kim Leslie, partner and specialist abuse lawyer at Digby Brown Solicitors, confirmed the civil action.
She said: "Following the conviction of Brother Benedict we are now investigating the matter on behalf of our client who was subjected to a horrendous ordeal and there is no doubt that others will have found themselves being similarly affected.
"An action has now been raised in court on the grounds of vicarious liability against both the local authority and the De La Salle Brothers."
East Lothian Council said it would be inappropriate to comment.
The De La Salle Brothers said: "As legal proceedings have commenced we are unable to comment at present. "