Benidorm fall death: Kirsty Maxwell's family claim 'clothes destroyed'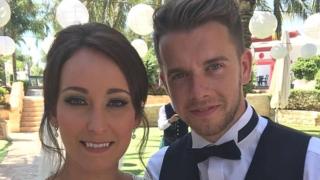 The family of a West Lothian woman who died at a holiday apartment block in Benidorm during a hen party have claimed Spanish police destroyed the clothes she was wearing at the time.
Kirsty Maxwell, from Livingston, fell from the 10th floor of Apartmentos Payma hotel in Benidorm on 29 April.
Four British men who were in the hotel room at the time were questioned as part of the inquiry.
Her family said at a press conference her clothing was not tested for DNA.
They added that they believed this was a "serious shortcoming" in the investigation.
A fifth British man was arrested and then released.
The Spanish authorities have taken no action and all the men questioned were allowed to come home to the UK.
Mrs Maxwell's family have previously said they remain convinced that something "sinister" happened to her.
They have employed an independent investigator, former police officer David Swindle, to look into the case.
'Flawed case'
Mr Swindle said the case was "flawed".
He said: "There has been media reporting from Spanish sources about things the police did not do regarding the investigation.
"Things we would expect in the UK in a major crime investigation to be dealt with, sadly there are so many issues that were not done properly.
"The same questions have been asked by Kirsty's family over the last nine months and these questions have all been unanswered."
He added: "Kirsty's husband, Adam, got an update on Friday the clothing worn by Kirsty was not tested for DNA and was destroyed by the Spanish forensic pathology department.
"That in itself indicates serious short comings in the investigation into Kirsty's death. We have to ask how many more processes were not done.
"It is shocking that there has been irretrievable loss of evidence and a lack of empathy to Kristy's family. It's a reckless act."
Adam Maxwell, Kirsty's husband said: "It's not the first time we have been shocked by something regarding Kirsty's case.
"It is very sad and shocking for the family as this is another thing we have been let down by the authorities. For them to treat Kirsty's death in this way, we cannot accept it.
"It does beg the question if Kirsty had died in the UK would this be different and I think we are all in agreement that this would be the case.
"They have not carried out this investigation as we would all expect."
Brian Curry, Kirsty's father, added: "We're really shocked and horrified about Kirsty's clothes.
"It shouldn't happen in an investigation and they should follow a procedure."