Glasgow-Edinburgh railway line reopened after repair work completed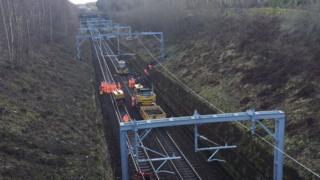 ScotRail has reopened the main line between Glasgow and Edinburgh after a landslip closed the main transport artery.
Emergency repairs to the line at Winchburgh in West Lothian were completed on Thursday evening.
Rail travellers had been experiencing a second day of disruption following the closure.
ScotRail said it would take some time for services to return to normal and thanked customers for their patience.
A spokesman for ScotRail Alliance said: "Following the landslip at Winchburgh, the line between Linlithgow and Edinburgh Park was closed in the interests of customer and staff safety.
"Thanks to the dedication and expertise of our engineers on the ground, who have been working tirelessly, we have now managed to safely reopen the line between Linlithgow and Edinburgh Park.
"Services will now start to run in both directions between Edinburgh and Glasgow via Falkirk High, and between Edinburgh and Dunblane.
"We are grateful to our customers for their patience as we worked to safely reopen the line."
The first services from Glasgow Queen Street and Edinburgh Waverley left at 18.30, the first from Edinburgh Waverley to Dunblane at 18.35.
But the company stressed there may be delays due to a speed restriction between Linlithgow & Edinburgh Park.
Mud and rocks fell onto the line at Winchburgh at midday on Wednesday as heavy rain and winds battered Scotland.
During the closure, replacement buses have been running between Linlithgow and Edinburgh Park.
Trains travelling to Edinburgh from Dunblane were also cancelled and replaced by buses.
Engineers from Network Rail worked through the night to assess the damage and make repairs.
Elsewhere, NetworkRail Scotland has said it could soon be possible to move a train that was derailed by a landslip on the West Highland Line.
Five passengers were on board when the train came off the track early on Monday morning. No-one was injured.