Airbnb plans for 90-day restriction in Edinburgh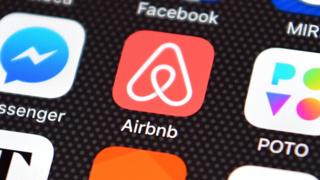 The online room renting service Airbnb is putting forward plans to ban Edinburgh landlords renting out their flats for longer than three months.
Short-term letting hosts would be restricted to renting out their properties for just 90 days under the plans.
The 90 days would be in addition to peak festival periods.
Airbnb has laid out the recommendations it made to an expert panel created by the Scottish government.
A report, published next week, is set to reveal the plans.
Green MSP Andy Wightman, who has campaigned on behalf of constituents, said: "Our concern is not so much with people renting out a room in their own house, that's a traditional Airbnb model.
"We're concerned with the conversion of whole residencies to commercial short-term letting, so having a blanket restriction is in my view not very sensible.
"They (Airbnb) are being used as a route to market by commercial operators who see it as a very cheap way of advertising the availability of a flat, which is used 100% of the year for commercial short-term letting.
"If AirBnB had a 90-day policy that would cut them out."
First Minister's Questions
Meanwhile, at First Minister's Questions in Parliament, Mr Wightman added the owners of short-term lets in Edinburgh were avoiding more than £10m in taxes each year.
He said the vast majority of the properties did not pay business rates.
Scottish Greens co-convener Patrick Harvie said councils should be given powers to regulate on short-term lets.
He said there should be a distinction between a property being a home or being made into a hotel.
The housing market should operate for homes first, he said.
Nicola Sturgeon said she was not ruling out new powers to deal with short-term lets, but would wait for the report to be published shortly.
An Airbnb spokesman said: "We always welcome discussions on clear home-sharing rules and are pleased that Scotland is taking steps to support local families.
"Airbnb guests boost Scotland's economy by £1m a day and we are pleased to be working with the government on clear home-sharing rules, so more Scots can benefit directly from innovative forms of tourism."