Edinburgh ceremony marks Greyfriars Bobby anniversary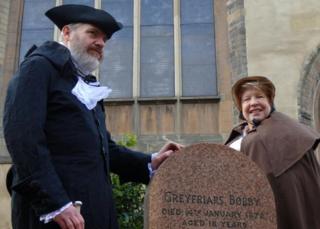 A ceremony has been held in Edinburgh to mark the 146th anniversary of the death of Greyfriars Bobby.
A crowd of more than a hundred people - plus dogs - attended the event at Greyfriars Kirkyard.
It followed emergency repairs to the gravestone of the dog's master after it was knocked over last weekend.
City of Edinburgh Council had said it could not be fixed in time, but funeral directors William Purves came forward to carry out the repair.
The legend of Greyfriars Bobby dates back to the late 19th Century.
The Skye terrier is said to have kept a constant guard over the grave of its owner John Gray, also known as Auld Jock, in Greyfriars Kirkyard for 14 years.
Bobby's period of mourning reputedly lasted until his own death in 1872.