Farmer's bid to catch on-the-run buffalo in Fife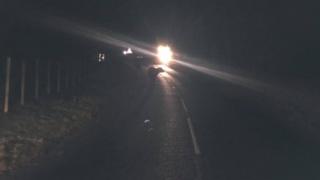 A farmer is trying to catch a water buffalo which has been on the run in Fife for three days.
The 400kg animal, which jumped a gate during a routine weighing, disappeared on Saturday from Clentrie Farm in Auchterool near Kirkcaldy.
Steve Mitchell, 35, owner of The Buffalo Farm where the one-year-old animal escaped from, had appealed for help to locate the animal.
The buffalo was spotted near another farm but has yet to be returned home.
Mr Mitchell is now trying to catch the buffalo which was seen in the early hours of Tuesday near Shawsmill farm, Lochgelly.
'Fingers crossed'
A post on The Buffalo Farm's Facebook page said: "He has been spotted unfortunately we have not got him home yet.
"He appeared on the road very close to Shawsmill Farm. Unfortunately we couldn't persuade him to go into the sheds but have got him into a field nearby.
"We have put some silage in with him and hope he will settle tonight.
"Unfortunately the fences in that field are not the best as it's not a normal livestock field but fingers crossed he is still there in the morning.
"The plan will be to take a quiet calm buffalo down to him and all being well walk them both home."