NHS Lothian A&E waiting times have been under-reported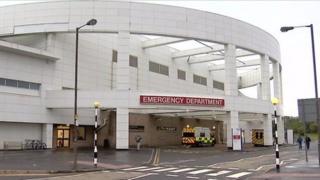 Emergency waiting times at every acute hospital run by NHS Lothian have been under-reported.
The Royal Infirmary of Edinburgh, the Royal Hospital for Sick Children and a unit at the Western General Hospital have all breached guidelines.
Incidents rose from 5.7% in October 2015 to 10.5% in September 2017.
It follows an internal review of the four-hour emergency waiting times after a whistleblower raised concerns at St John's Hospital in Livingston.
Local procedures
NHS Lothian said all reporting practices surrounding emergency department waiting times were being re-modelled.
Officials admitted local reports had not been "complying with national guidance, meaning that numbers have been understated in performance reports".
NHS Lothian said it had already "created a robust standard operating procedure (SOP), instructed comprehensive staff training around it and begun development work to better support staff".
The report said: "Local procedures were developed to mitigate for an unclear and perhaps out of date SOP. Local procedures should not be allowed to be developed."
NHS Lothian's deputy chief executive Jim Crombie said: "The report has made a number of recommendations and the board members will discuss them in greater detail.
"We have already put several of them into place, including the creation of a standard operating procedure and created staff training.
"As soon as we received these initial concerns, an internal audit team was appointed, headed by a senior non-executive director to oversee the investigation.
"We now have the results and the recommendations from that report and we will develop a plan to ensure effective action is taken."