Rosyth Dockyard faces 250 job losses as carrier work ends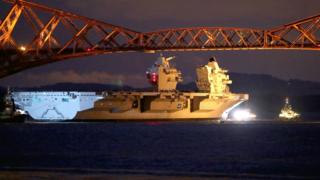 About 250 jobs are to go at the Rosyth Dockyard in Fife.
The posts will be lost at Babcock International Group as its contract to build two Royal Navy aircraft carriers nears completion.
Managers said the "one-off" nature of the carrier programme meant job losses were inevitable.
The company said its employees were a priority and prospects for Babcock's operations at Rosyth "remain good".
Unions called on the company to ensure there would be no compulsory job cuts.
Economy Secretary Keith Brown said the Scottish government would provide support to those facing redundancy through its Partnership Action for Continuing Employment (Pace) initiative.
He added: "Pace aims to minimise the time which individuals facing redundancy are out of work by providing skills development and employability support and I hope it is of some comfort to those employees affected that Pace has an excellent track record in supporting people back into employment."
Babcock had secured the contract to assemble two aircraft carriers at Rosyth
The HMS Queen Elizabeth has been completed and will be formally commissioned into the Royal Navy on 7 December.
The HMS Prince of Wales is also nearing completion, prompting a review of workforce requirements.
The company insisted it would work closely with the workforce and trade union representatives, and try to relocate as many employees as possible within the organisation.
A spokesman for Babcock said: "The prospects for Babcock's operations at Rosyth remain good.
"The last 10 years of the Queen Elizabeth Class (QEC) carrier programme has been an outstanding success story.
"Unfortunately, given the one-off nature of this large-scale programme, as the ships begin to be handed over to our customer, we must inevitably reshape our business to remain competitive and take on new challenges, which we firmly believe exist for Rosyth.
"However, medium term opportunities cannot compensate for the 250 or so specific roles and capabilities no longer needed with the slow-down of the QEC work."
The Confederation of Shipbuilding and Engineering Unions (CSEU) Scotland, which incorporates GMB and Unite, said the job cuts "cannot be the start of a downward spiral for Rosyth".
CSEU chairman Gary Cook added: "First and foremost, achieving these redundancies on a voluntary basis is entirely within Babcock's gift and it's the least this employer can do to recognise the massive contribution of the workforce to the delivery of the aircraft carrier programme."
'Concerning time'
The Ministry of Defence said that staffing levels were a matter for Babcock and any redundancies were still under consultation.
A spokesperson said: "The MOD spent £1.7bn with Babcock last year, and their Rosyth yard has played the instrumental role of assembling the nation's two new aircraft carriers.
"The company has taken this decision as a result of internal restructuring and have said they are working to offer new opportunities to as many employees as possible.
"It is clearly a concerning time for their workers and the government stands ready to support those affected."
The 65,000-tonne HMS Queen Elizabeth is the largest warship built in Britain and is expected to be the Navy's flagship craft for at least 50 years.
Its sister ship, HMS Prince of Wales, is expected to enter service in 2019 after contractors complete work on the vessel.