Footballers Goodwillie and Robertson lose appeal against rape finding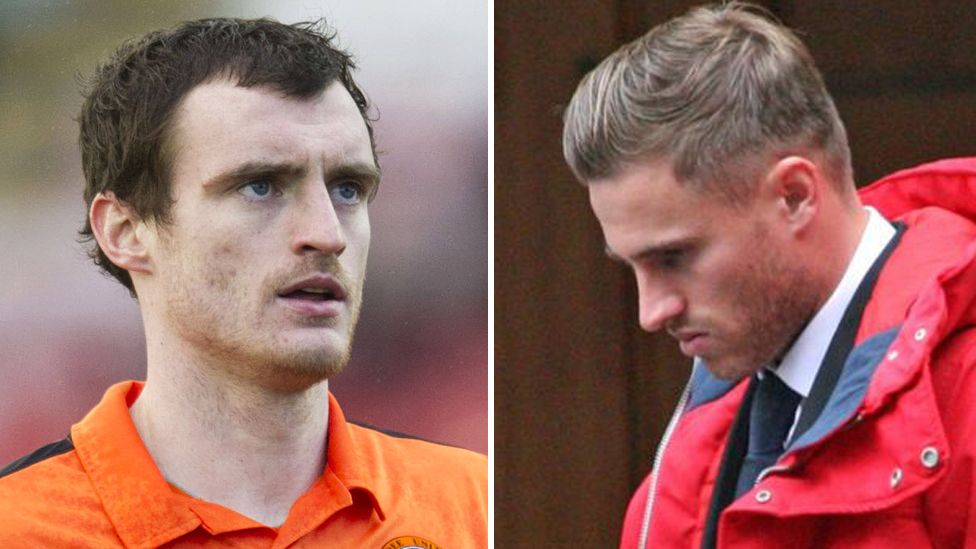 Two footballers have lost an appeal against a civil ruling which said they raped a woman and that she was entitled to £100,000 damages.
Ex-Scotland striker David Goodwillie and former Dundee United player David Robertson had brought a legal challenge against Lord Armstrong's finding in favour of Denise Clair.
The appeal was unanimously rejected by three appeal judges on Tuesday.
Ms Clair, 30, claimed she was raped at a flat in Armadale, West Lothian.
She had gone for a night out on 1 January 2011 in nearby Bathgate before the attack.
Both Goodwillie, 28, and Robertson, 31, had accepted that they had sexual intercourse with her but maintained that it was consensual.
A full police investigation was carried out into the incident but no criminal prosecution took place.
Ms Clair, who had drunk a half pint of lager, eight or nine Jack Daniels and coke and two Jaegerbombs, maintained in the subsequent civil action that she had been raped by both men.
The court heard that she went in a taxi to Armadale with the players in the early hours of the morning.
She later woke, naked, in a strange house and had no recollection of events from shortly after she arrived at a pub, the Glenmavis Tavern, the previous evening.
Following an evidential hearing, Lord Armstrong said in a judgement issued earlier this year: "I find that in the early hours of Sunday 2 January 2011 at the flat in Greig Crescent, Armadale, both defenders (the players) took advantage of the pursuer when she was vulnerable through an excessive intake of alcohol and, because her cognitive functioning and decision making processes were so impaired, was incapable of giving meaningful consent, and that they each raped her."
Lawyers acting for ex-Dundee United, Blackburn Rovers, Aberdeen and Plymouth Argyle player Goodwillie and former Cowdenbeath footballer Robertson originally put forward five grounds of appeal.
However, only two of the grounds were advanced at a hearing before the Lord Justice Clerk, Lady Dorrian, sitting with Lady Clark of Calton and Lord Malcolm, at the Court of Session in Edinburgh.
Related Internet Links
The BBC is not responsible for the content of external sites.