Relatives gather for Elsie Inglis anniversary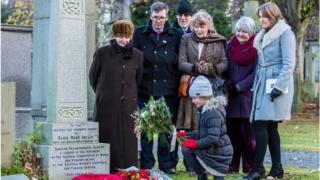 Relatives of Elsie Inglis have gathered in Edinburgh to mark the 100th anniversary of her death.
The pioneering doctor is credited with saving thousands of lives after setting up 17 Scottish Women's Hospitals across Europe during World War One.
Inglis carried out her work despite knowing she was suffering from cancer and succumbed to the disease in 1917.
Her family attended a commemorative wreath laying ceremony at her graveside in Dean Cemetery.
Medical equipment
They were joined by Scotland's Health Secretary Shona Robison, Lord Provost Frank Ross and Captain Slobodan Novaković, Defence Attaché at the Embassy for Serbia in London.
Inglis, who was born to a wealthy family in 1864, made a name for herself after establishing maternity services for poor women in her home city.
When the war began in 1914, she wanted to work on the frontline, but was told by the War Office that women were not allowed.
However, Britain's allies allowed her to help and she used the opportunity to set up 17 Scottish Women's Hospitals for injured soldiers across Europe.
Along with her colleagues and associates from the suffragist movement, she raised the equivalent of £53m in today's money to buy medical equipment to help those on the front line.
A national commemorative event is also due to be held on Wednesday in St Giles Cathedral to mark 100 years to the day since her funeral there.