Huge schools shake-up plan for south west Edinburgh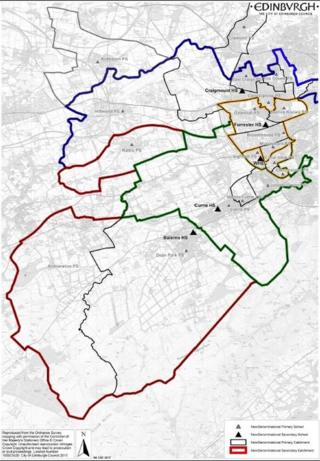 A shake-up of school provision and changes to catchment areas are being planned for south-west Edinburgh in a bid to deal with rising pupil numbers.
The move would affect 13 primary schools and seven high schools.
Projections show by 2026 there could be an extra 1,300 primary and secondary pupils in west Edinburgh, where 4,000 new homes are proposed.
Under the plans Currie High School would be amalgamated with Wester Hailes Education Centre.
It would form a new West Edinburgh High School.
Other proposals include the creation of a second new high school in south-west Edinburgh, a new Maybury Primary School and the expansion of refurbishment of Balerno High School.
Meanwhile the south-west of the city could see more than 200 new pupils following the delivery of 700 new homes.
Future challenges
Ian Perry, City of Edinburgh Council's convener of education, children and families, said: "With Edinburgh being such a thriving and successful city, more and more people are coming to live here so we need to build the extra homes for them.
"This will obviously have a big impact on our schools with extra pupils which they will struggle to cope with.
"We need to ensure we can provide places for these additional children and that is why we are reviewing school provision across the whole city.
"This strategic approach means Edinburgh will be well-placed to meet the future challenges our schools face."
Alison Dickie, City of Edinburgh Council's vice-convener of education, children and families, said: "The aim of publishing these proposals is to gauge the views of parents and their school communities.
"It's so important we hear their voices - especially if they have any alternative proposals we could consider.
"The consultation over the coming months is an integral part of the review process however I must stress these proposals cannot be implemented without a statutory consultation process which would be the next step."