A station with three passengers is saved from closure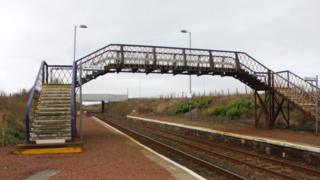 A little-used train station in West Lothian has been saved from closure.
Official statistics showed that fewer than three passengers a week used Breich station during 2015-16.
A consultation on the future of the unmanned stop on the line between Glasgow and Edinburgh, via Shotts, was carried out earlier this year.
Transport minister Humza Yousaf said the station would be retained after the "overwhelming response" to the survey was in favour of keeping it open.
Breich station, near the small village of Breich, is currently served by one service a day in each direction, six days a week.
Mr Yousaf said talks would also be held on whether more services could stop at the station.
"The overwhelming response to the consultation was in favour of keeping Breich Station open," he said.
"Not only that, many respondents wished to see more services calling at Breich Station to increase patronage.
"Having taken on board the strong support for Breich Station, I have made the decision it should remain open.
"My officials are working with the ScotRail Alliance to see how we can increase calls at Breich to make it a more viable station which encourages greater use of rail."
The future of the station was under review as part of an electrification project on the Shotts line.