Elsie Inglis to be commemorated for war achievements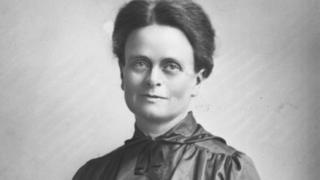 Dr Elsie Inglis is to be honoured for her achievements during World War One at events planned by the Scottish Commemorations Panel.
She set up hospitals to treat thousands of injured men in brutal conditions on the European front line.
Through women's suffrage organisations, the equivalent of £53m was raised to support the work.
Commemoration events will take place in Edinburgh at the end of November to celebrate Dr Inglis' work.
A private ceremony will take place at Dean Cemetery on 26 November, before a large public event on 29 November at St Giles Cathedral to mark the anniversary of her funeral.
The plans were announced at the Surgeons' Hall Museum with descendants of Dr Inglis in attendance.
Patricia Purdom, the great, great, great niece of Elsie and Clea Thompson, whose great grandmother was a cousin of Elsie were at the event where memorabilia, including Elsie's medals, are on display.
Ms Thompson said: "It makes me feel really proud and I feel emotional when I hear about the stories and it feels very inspiring.
"I think what it does for me is it helps me reflect on where we have come today that things that you might not know the struggle that went before to achieve for example the amount of female doctors we have."
Originally Dr Inglis had hoped to set up a hospital in Edinburgh but her idea was turned down by the War Office.
Amateur historian Alan Cumming, who has researched the story for four years said: "When Elsie originally went to the War Office to inquire if doctors and surgeons were permitted to work in front line hospitals she was told 'my good lady go home and sit still'.
"Elsie went into action almost immediately and formed what we know as the Scottish Women's Hospitals."
Spurred on by her rejection she set up hospitals in allied countries after offering her services to France.
She is particularly remembered in Serbia for her work.
Serbia was devastated by the war after being invaded but at that time was also suffering a typhus epidemic, in which it lost about 16% of its population.
Mr Cumming said: " In Serbia they have street names, exhibitions, museums and even some new facilities named after, not just Elsie Inglis but a number of the other women who served in the Scottish Women's Hospitals. They absolutely love her. "
"The contribution she made to Serbia's war was enormous."
In 2015 Dr Inglis and five other female volunteers were honoured by appearing on commemorative Serbian stamps.
She organised teams of female nurses, doctors, orderlies and drivers to work the hospitals.
'Brave and determined'
During WW1 more than 1,500 women worked at 14 Scottish Women's Hospitals on the European front line along with just 20 men.
These woman were often unmarried and wanted to prove their independence and capability on the front line.
Dr Inglis, a keen suffragist, drew on this and motivated women to promote themselves during wartime.
Ms Purdom said: " I think she is quite pioneering to show they were not the weak species, if you like. She and her nurses went through some atrocious conditions when they were serving out in Russia, Serbia and France.
"They were so brave and determined and saved so many lives out there."
Mr Cumming added: "If you're a young lady, a woman, living here in Scotland today looking for a role model, someone that is going to inspire you, then I suggest you use this time to look into the story of Elsie Inglis."