Local residents concerned over 'flaring' at Mossmorran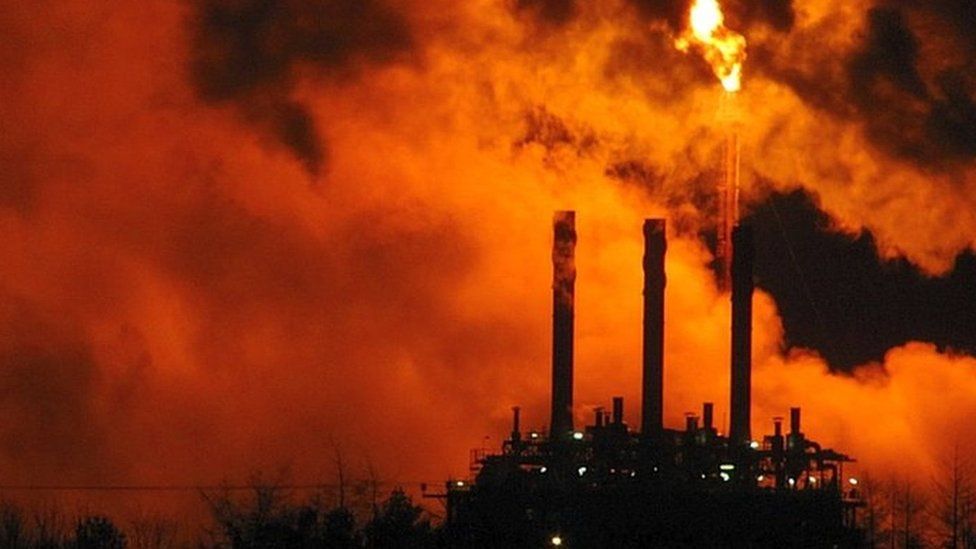 The operators of the Mossmorran petrochemical plant have apologised to residents as flaring continues following a small gas leak on Friday.
ExxonMobil Chemical says flaring is a vital part of keeping the plant running safely during unplanned operations.
Giant flares igniting in towers of the plant, which is near Cowdenbeath in Fife, have be seen over the weekend.
The company said it hoped to have operations back to normal by early Tuesday morning.
ExxonMobil Chemical's Fife Ethylene Plant (FEP) is one of Europe's largest and most modern ethylene plants.
It was the first plant specifically designed to use natural gas liquids from the North Sea as feedstock, which is supplied by the neighbouring Fife Natural Gas Liquids plant operated by Shell.
Flaring began on Friday afternoon following an issue in the plant's refrigeration system.
The process to restart normal operations on Monday was delayed due to an "instrumentation issue", according to the operators.
The issue has now been resolved and the process to re-start the plant had resumed by late Monday morning.
ExxonMobil Chemical said it anticipated that the plant would return to normal operations within 12 to 18 hours.
Mossmorran process manager Craig McCafferty said: "We apologise to the local community for the continued flaring.
"It is unfortunate, but not unusual, for issues to arise when restarting complex industrial processes of this kind, and I would like to assure residents that we are doing all we can to minimise any disturbance and to return the plant to normal operations as soon as possible.
"Safety and environmental protection continue to be our highest priorities, and all relevant authorities are being kept fully informed."
The company said there was no danger to local communities or employees.
The Scottish Environmental Protection Agency (Sepa) said in a statement: "We have been advised that there has been a delay in the restart of the plant which means that flaring is expected to continue throughout the day.
"We are in contact with the operator to understand what has caused this delay."
Residents took to social media over the weekend to express their concerns.
James Glen said on Twitter "living near mossmorran right now is worse than being under a flight path #Mossmorran".
Emma-Louise Cragg wrote: "We can hear the Mossmorran flaring from our house, 10 minutes away from the factory. Feel sorry for any children who live next to it :("
Mid Scotland and Fife's Green MSP Mark Ruskell accused ExxonMobil of causing misery for Fife communities with the latest shutdown.
He said: "This latest incident once again shows the contempt the operators hold neighbouring communities who have flooded me with complaints.
"ExxonMobil state that the flaring poses no danger to local communities yet the noise, bright light and vibration that comes with the flaring process makes it virtually impossible to get a good night's sleep.
"It's time for the Scottish Government and Sepa to take serious enforcement action to ensure that the wellbeing of those living in the shadow of Mossmorran is given greater priority than ExxonMobil's shareholders."
Related Internet Links
The BBC is not responsible for the content of external sites.