Cultural events mark centenary of writer Muriel Spark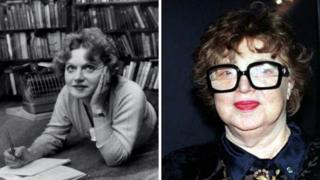 A year-long nationwide programme of literary and cultural events and activities marking the centenary of Scottish writer, Dame Muriel Spark, has been announced.
Edinburgh-born Spark achieved fame with the publication of The Prime of Miss Jean Brodie in 1961.
Polygon will be republishing all 22 of Spark's novels.
Fellow authors have also been lined up to reflect on Spark's career in a new BBC Radio 3 series.
There will be an international conference for fans and academics and a specially commissioned BBC Scotland/BBC4 documentary about the author's life and work.
Edinburgh City of Literature Trust will be joining up with Mercat Tours to launch Muriel Spark walking tours from Spring 2018.
And the National Library of Scotland will hold an exhibition called The International Style of Muriel Spark from 8 Dec - 13 May 2018, revealing insights into her life and work.
Spark, who died in Italy in 2006, at the age of 88, wrote more than 20 books and won numerous literary awards.
Spark's friend Penelope Jardine said: "Muriel's contribution to Scottish Letters is one of manifest originality, brevity of wit, with the musical composition and rhythms of a poet. Something unforgettable sui generis."
Scotland's Culture Secretary Fiona Hyslop said: "I'm really excited about the forthcoming celebration of Muriel Spark 100. Dame Muriel Spark was one of Scotland's literary giants and, to this day, her work continues to inspire generations of readers and writers and resonates with audiences across the country and beyond.
"I commend Creative Scotland, the National Library of Scotland and all the other partners involved for delivering such an engaging and varied programme of activity and I am looking forward to attending some of these events next year."