Prisoners posted nude pictures online from Edinburgh jail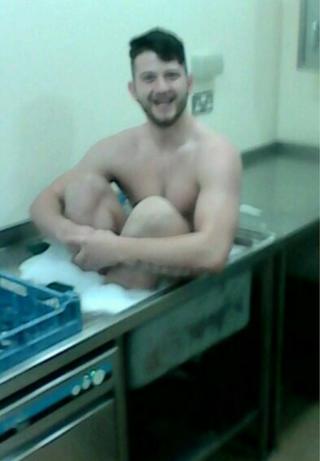 An investigation has begun after prisoners posted nude photos of themselves on social media from inside an Edinburgh jail.
The Daily Record reported the men were offenders in Saughton Prison.
The Scottish Prison Service said possession of a mobile phone in prison was a criminal offence and the matter would be thoroughly investigated.
It said it can request removal of Facebook accounts that are proven to be accessed while a prisoner is in jail.
The Scottish Sun has reported one of the naked pictures is of John Reid, who was 16 when he killed Simon San, 40, with a single punch outside the San family's takeaway in Lochend in Edinburgh in 2010.
Mr San fell to the ground during the attack, suffered fatal head injuries and died the following day.
Scottish Justice Secretary Michael Matheson told BBC Radio Scotland's Good Morning Scotland programme: "I can't comment on that specific allegation because this is a matter that is now under police investigation because it is a criminal offence to have a mobile phone within a prison."
He added: "What I do expect is for this matter to be fully investigated and where there is evidence offences have been committed, for appropriate action to be taken against individuals who have been involved in this activity."
A Scottish Prison Service spokesman said: "We do not comment on individual prisoners. We do not permit access to the internet and therefore to social media sites.
"SPS cannot close social media profiles. Upon identification of a profile for a prisoner, we request removal from the site.
"The SPS only has the ability to investigate and request removal of Facebook accounts that are proven to be accessed while a prisoner is in our care.
"The possession of a mobile phone in prison is a criminal offence. If we receive information to suggest that prisoners are in possession of such devices, we will take all appropriate action and report it to the relevant authorities."
A Police Scotland spokesperson said: "We have been made aware of allegations that images of prisoners with HMP Edinburgh have been posted online and are currently liaising with the Scottish Prison Service as part of initial investigations."