Bear's giant tongue is removed by vets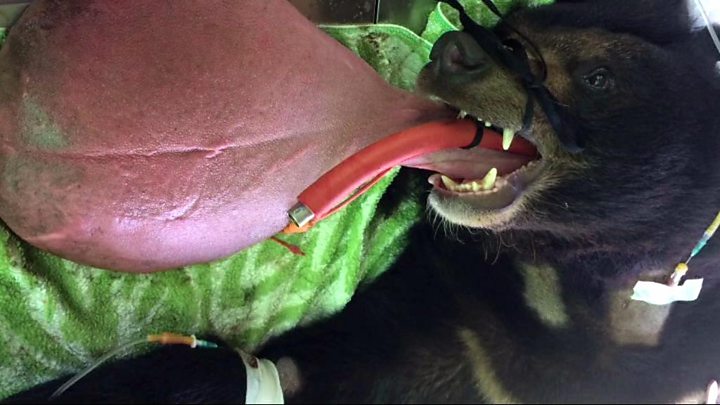 An Edinburgh vet has helped remove the giant tongue of a bear in Myanmar.
Heather Bacon, of the University of Edinburgh's Royal (Dick) School of Veterinary Studies, worked in the team which carried out the operation.
The bear - called Nyan htoo, meaning "bright" - had a tongue so large that it dragged on the ground as he walked.
Nyan htoo had been suffering from a mystery illness since he was a cub. He is said to be "recovering well" after his four-hour operation.
During the surgery, Heather and her team removed 3kg (about 7lb) of tissue from the bear's tongue.
As his tongue was so heavy, Nyan htoo often had to rest his head against his cage to support the weight.
Despite his condition, he was still able to play with his brother.
The two bears had been set to be illegally sold in China, but were rescued by monks at a monastery in Myanmar.
Although the disease remained a mystery for the last couple of years, the vets think it may have been caused by elephantiasis, a mosquito-transmitted infection that makes body parts swell to extreme levels.
"We have been able to make a tangible improvement in the quality of Nyan htoo's life," said Heather.
Caroline Nelson, a veterinary nurse at Animals Asia's Vietnam Bear Rescue Centre said: "This was a really unusual medical condition - never before seen in any species of bear - but we weren't about to give up on Nyan htoo."