Volunteers collect 500,000 'nurdles' from beach at Bo'ness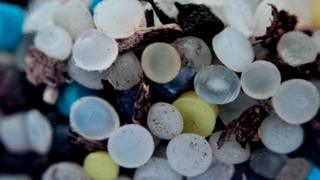 An estimated 540,000 plastic pellets were collected from a small section of beach on the Firth of Forth.
Volunteers spent eight hours collecting the lentil-sized pellets, known as nurdles, from the shore at Bo'ness.
However, the charity behind the clean-up said their activity was "barely noticeable" and nurdles still make up a large proportion of beach sediment.
The pellets are melted down to make plastic products ranging from bin bags to bottle tops.
The UK processes around 3 million tonnes of plastics a year, almost all in nurdle form.
The pellets are easily spilled during handling, and if they are not cleaned up, they can end up down drains, in waterways and eventually at sea.
Fish and seabirds can mistake them for food and they can release potentially-toxic chemicals into animals that eat them or feed near them.
The beach clean on the western edge of Kinneil nature reserve in Bo'ness was organised by Fidra and Marine Conservation Society Scotland earlier this month as part of The Great Nurdle Hunt.
Fidra's project officer Madeleine Berg said: "Although we collected nurdles all day, we barely scratched the surface.
"From these estimates, there must be many millions on this small stretch of beach alone."