Public buses allowed back on Forth Road Bridge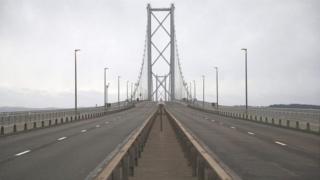 Buses are now able to use the Forth Road Bridge as part of a phased reopening.
Since the opening of the new Queensferry Crossing, the old bridge has been closed for roadworks to be carried out.
It has partially reopened for public buses with other buses, taxis and motorbikes to follow in a few weeks.
The speed limit on the Queensferry Crossing will rise from 40mph to 50mph in the coming weeks.
It will then increase to 70mph when fully operational later in the year.
Congestion has affected both sides of the new £1.35bn bridge across the Forth since its opening, with performance being monitored closely by Traffic Scotland, Amey and Transport Scotland.
'Under review'
Transport Scotland said that while journey times were returning to "more usual levels" the new arrangements were "still bedding in and are being kept under review".
Mark Arndt, Amey's account director for the Forth Bridges Unit, said: "We've been taking advantage of the Forth Road Bridge being closed to traffic by carrying out important trials and investigations on the carriageway, with a view to completely resurfacing it at a future date.
"We've also taken the opportunity to get ahead with steelwork repairs and other maintenance. It will be good to see the bridge carrying buses again - this marks an important step forward."
Traffic Scotland operator manager Stein Connelly said: "The transfer of public scheduled buses onto the Forth Road Bridge marks the next stage of the Queensferry Crossing project.
"There will be no change to the road layout for the majority of vehicles but we would ask all drivers to stay alert to allow everyone to get used to the new arrangements.
"Traffic Scotland will be keeping road users up to date on Friday with all of the real time travel information that they need to plan their journeys."
The phased re-opening of the Forth Road Bridge will mean Stagecoach can revert back to normal stopping arrangements for services X51, X55 and 747, with other services continuing to use the Queensferry Crossing.