Dubai fake banknote man: Nightmare 'robbed me of time with dying mum'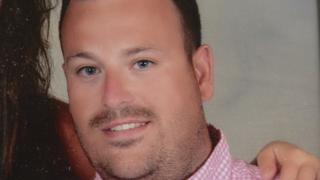 A family holiday to Dubai turned into a nightmare ordeal for Billy Barclay during which he spent three days in prison and was "robbed" of vital hours with his dying mother.
The 31-year-old, from Edinburgh, was arrested and threatened with a year in jail over a counterfeit £20 charge that he had already been cleared of on his previous trip.
He says he was taken away from his family, shackled on his hands and feet and treated like the worse kind of criminal on a charge that had been thrown out the year before.
Mr Barclay told BBC Scotland's Kaye Adams programme that while he was being held in Dubai his mother suffered a "massive stroke" and he was denied valuable time with her before she became too ill to respond.
He says his family tried to let the Dubai authorities know that his mother was critically ill but they were told by the Foreign Office that it could be seen as "emotional blackmail".
Mr Barclay himself did not learn the full extent of her illness until he returned to the UK last week.
His mother died just days later.
Counterfeit note
The charges that led to Mr Barclay's ordeal related to an incident in September 2016 when he tried to exchange money at the Al Hamra Mall in Ras Al Khaimah.
He said Dubai was not a cheap place and he needed more money so he went to the Bureau de Change with some sterling notes.
He says: "That's when I discovered one of the notes was a counterfeit £20 which obviously I did not know anything about."
The man in the money exchange accepted it was a mistake but his colleague insisted on contacting the CID.
Mr Barclay says even at that stage he thought they would understand it was a "genuine accident".
He was detained at a police station for 12 hours, with his wife and children, aged eight and six, also there waiting for him.
Passport checks
After the detectives had searched their hotel room looking for further counterfeit notes, they were released without charge.
His wife Monique says: "Billy specifically asked if we would be allowed to come back to the country and we were told 'of course, yes, it was an accident'."
Despite this upset the family went on to have a good holiday in Dubai, so much so that they booked to return in September this year.
Mr Barclay says that when they arrived at Dubai International they all got through passport checks and were going to get their bags when he was pulled back and told there was a problem.
He spent about an hour with immigration officers while his wife and children were left waiting in the airport before they were all taken to a police station.
It was only at this point that Mr Barclay was told that it it related to the counterfeit banknote from the year before.
Mr Barclay says: "I kept saying to them 'this is all sorted' but they are the most ignorant people you can imagine. They are not interested."
His family were told to check into their hotel and Mr Barclay was detained at the police station for eight hours without food or water.
He was then taken to the Dubai police headquarters.
Highest criminal
"I was treated like the highest criminal," he says.
"I was shackled, feet and hands, and put in the back of a very small van with nine other guys."
Mr Barclay says he was kept in the cell until midnight then driven around Dubai for two hours before being returned to same police station.
"They said there had been a change of plans," he says.
Later he was taken to Ras Al Khaimah, where the original incident took place.
"At this point I am thinking that is good because that is where the case was," Mr Barclay says.
"That is where I will get will released. I was told I would just pay a fine and be on my way."
Instead he was locked up in a prison cell for three days. He says that, again, he was given no food or water.
He says the guards were "nasty, harsh, horrible" people.
'Did nothing whatsoever'
During that time he had no communication with anyone.
His wife says she had been in touch with the British Embassy, as had Mr Barclay's family in Edinburgh.
"They did absolutely nothing whatsoever," she says.
"They never sent someone to see him."
She says at first the family did not even know where he was.
"The first time I found anything out was when Billy phoned me on the Sunday afternoon and said that he was getting released that day," she says.
The Foreign Office has told BBC Scotland they made a number of calls to Mr Barclay's family to update them on his case after speaking to authorities in the UAE.
A statement said: "This included finding out where Mr Barclay was being held and offering advice on the retention of Mr Barclay's passport by the UAE authorities."
Mother's stroke
Mr Barclay was not allowed to leave the UAE and his passport was confiscated.
His family flew back to Scotland at the end of their holiday and his wife says she was unsure when she would ever see her husband again.
On the Saturday of their return, Mr Barclay's mother had a stroke and on the following Tuesday she took a turn for the worse and they were told she would not survive.
Mr Barclay was still in Dubai awaiting his fate, totally in the dark about the extent his mother's illness and whether he would go to prison.
He was finally allowed to leave Dubai a week ago and was told his mother did not have long left.
"It was horrific, horrendous," he says.
"I got off the plane, I'm home, I'm safe, I should have been on a high and then this.
"When I got to the hospital she came to a wee bit, it was like she was waiting on me."