Edinburgh Tram Inquiry: Lawyer knew information was false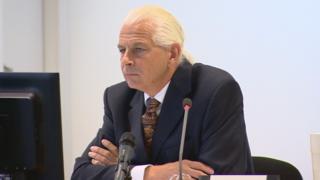 A lawyer has admitted he knowingly allowed false information about Edinburgh's tram contract to be submitted to the council.
Andrew Fitchie said he accepted the legal implications amounted to fraud.
He accepted that he allowed information about changes in the burden of risk in part of the contract to be submitted to Edinburgh City Council in May 2008 despite knowing it was false.
He said he knew that was potentially a criminal and civil offence.
Mr Fitchie told the tram inquiry that senior people at Tie, the company set up to manage the project, would also have known the information presented was inaccurate.
Later Mr Fitchie said when the documents were read as a whole he did not think they were deliberately misleading.
The tram inquiry is examining why Edinburgh's tram system was delivered years late, £400m over budget and mired in bitter legal dispute.