Prisoner who escaped from Edinburgh Sheriff Court sentenced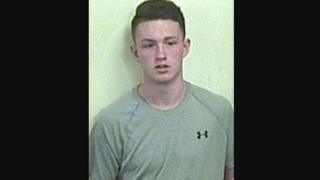 A teenager, who escaped from an Edinburgh court after persuading guards to remove his handcuffs, has been sentenced to 250 hours of unpaid work.
Steven McGovern, 18, who had been injured in a motorbike crash, fled from G4S staff at Edinburgh Sheriff Court on Monday 10 July.
He then assaulted three police officers when they tracked him down to a flat in Granton.
McGovern, pleaded guilty previously to the offences.
He was put on a supervised Community Payback Order for three years.
McGovern, a prisoner at Polmont Brightons, was also ordered by the court to participate in the Venture Trust programme and on a Restriction of Liberty Order confining him to his house between 18:00 and 06:00 for six months.
He was also disqualified from driving for five years for a number of road traffic offences.
Arm injury
Fiscal Depute Anna Robertson told Sheriff Kathrine Mackie that McGovern had been admitted to Edinburgh Royal Infirmary with an arm injury following a crash on a motorbike.
He had been charged with the theft of a motorbike and was arrested by officers on 10 July.
He appeared in the sheriff court later that day with a sling on his left arm.
The fiscal said McGovern had not been double-cuffed on the way to the prison van because of the arm injury, but was single-cuffed on his right arm.
Ms Robertson added: "As the accused approached the escort van he said he would not be able to climb the steps into the van without the handcuffs being removed.
"The accused was then released from the single cuffs by the prison officers and immediately after the handcuffs were removed, he ran away.
"The prison officers were unable to catch him".
Defence solicitor, Steven Donald, admitted his client's behaviour had been "extremely unpleasant" and added that it was difficult to believe he was only 18 given his record.