Edinburgh Tram Inquiry: Contract lawyer was given bonus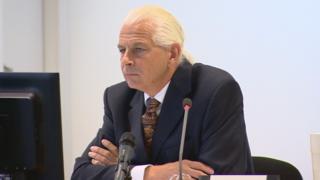 The lawyer who drew up Edinburgh's tram contract has revealed he was given a £50,000 personal bonus.
Andrew Fitchie told the tram inquiry he had worked overtime advising the company set up to manage the project, Tie, but the money was later returned.
He said he was given a bonus because he was initially offered a fixed amount to work an eight-hour day but ended up working 13-and-a-half-hour days.
He negotiated an extra £114,000 for his firm.
He was seconded to Tie from his own firm DLA Piper.
He declared the money to DLA piper and Inland Revenue.
The money was recovered later as his company expressed concern about the bonus.
Mr Fitchie also told the inquiry he was puzzled as to why nobody from the city council appeared at negotiations when contractors Siemens tried to force a price rise in February 2008.
The trams were originally designed to run for 15 miles by 2011 at a cost of £375m, but a truncated nine-mile service opened in 2014 at a cost of £776m - with interest charges expected to push the final bill to about £1bn.
The inquiry is examining why the trams were delivered late, over budget, and mired in bitter dispute which ended up in the courts.