Manager sentenced over sex attacks at stores in Fife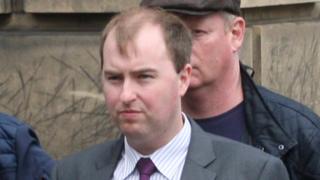 An assistant store manager who sexually assaulted five female colleagues while working for a high street shopping chain has been given a three year community payback order.
Andrew Docherty, 28, targeted the women at branches of Home Bargains in Fife.
Docherty also placed another two women in a state of fear and alarm between 2007 and 2015.
While working for Morrisons supermarket, Docherty followed one 26-year-old female worker around a store.
He then stopped her from leaving the shop.
The High Court in Edinburgh heard on another occasion while working at Home Bargains, he uttered derogatory remarks towards a woman who was left alarmed by what she had heard.
Lord Malcolm told Docherty, from St Andrews, that as part of the order, he would have to perform 250 hours unpaid work in the community.
Docherty was also told he would be supervised by the authorities for three years.
He will also have to attend a course to help sex offenders learn about their offending behaviours.
Jurors returned guilty verdicts to a string of sexual assault charges following trial at the High Court last month.