Second extradition bid for convicted killer Zain Dean fails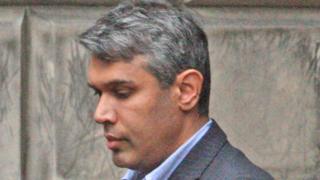 A second request for the extradition of an Edinburgh businessman wanted by the Taiwanese authorities for fleeing from the country after being found guilty of manslaughter, has been rejected.
Zain Dean was found guilty of killing a 31-year-old news vendor in a drink driving incident in 2010.
Dean was sentenced to four years in jail for killing the man but absconded to Scotland using a friend's passport.
The Extradition Court in Edinburgh rejected Taiwan's request.
The case will now return to the High Court.
Dean set up home in Edinburgh changing his name by deed poll to Callum Rafael Scott.
On bail
At his trial in 2011, the court heard he had been entertaining clients in a nightclub and claimed he hired an employee there to drive him home.
He was, however, found guilty and released on bail where he left the country.
In 2013, he was arrested in respect of an extradition request from Taiwan and spent two and a half years in HMP Edinburgh before being released on bail.
The request for his extradition led to a Memorandum of Understanding between the United Kingdom and Taiwan which laid out arrangements for his treatment in prison there.
The extradition request for the negligent manslaughter case is still under appeal.
In June 2016, however, the Minister of Justice of Taiwan submitted another request for his extradition on a charge of attempting to pervert the course of justice by absconding.