Police link Fife indecency incidents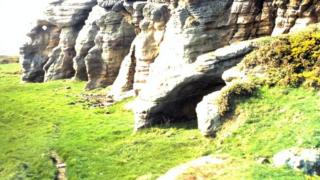 Police are linking an incident in which a man exposed himself on a Fife coastal path with a similar incident a week earlier.
The woman was walking her dog near Caiplie Caves, between Crail and Cellardyke, at about 14:30 on Saturday, when she saw a man exposing himself.
It follows a near identical incident in East Neuk on Saturday, 30 September.
The man was described as being in his late 30s or early 40s, with a tanned complexion and a stocky build.
He had dark stubble on his face and short, dark hair and was wearing tracksuit bottoms with a white stripe down the side and a long-sleeved navy top.
'Understandably alarmed'
Det Sgt Paula Warrender said: "The woman was unhurt, however she was understandably alarmed by the man's behaviour and promptly reported the matter to the police.
"I would urge anyone who has any information about the incident or recognises the description of the man, to contact police immediately.
"In the meantime, I would like to reassure members of the public that we will be increasing our patrols in the area and will be conducting extensive inquiries to trace the man responsible."