Luke Mitchell to attempt new murder conviction appeal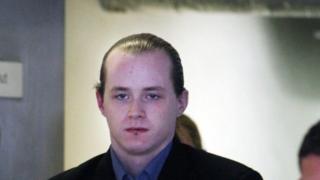 Campaigners are working on developing new evidence for Luke Mitchell to appeal his murder conviction.
The 29-year-old was sentenced to life, with a minimum jail term of 20 years, after he was found guilty of murdering his girlfriend Jodi Jones in 2003.
It is hoped the new evidence will support an application for a review by the Scottish Criminal Cases Review Commission.
The body of Jodi Jones, 14, was found in woodland near Dalkeith, Midlothian.
Campaigners are helping the Miscarriages of Justice organisation with efforts towards a new Scottish Criminal Cases Review Commission review.
The work involves criminologist Dr Sandra Lean, who was also behind a 2014 appeal bid for him.
In 2011 Mitchell's request to refer his case to the UK Supreme Court was refused by judges at the High Court in Edinburgh.
Judges dismissed claims his human rights were breached when he was questioned by police without a lawyer.
Dr Lean said: "Over the years I've seen all of the evidence including evidence that wasn't before the courts that no jury has ever seen and it just doesn't add up.
"It does not support the case that was brought against Luke.
"There is so much that would shock the public that has never been released and has never been before a court."
"There is information there that demonstrates Luke was not responsible for this terrible murder."