Edinburgh Castle flagpole snaps in high winds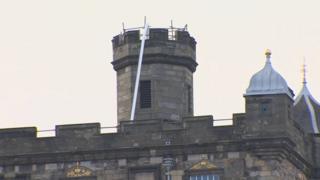 The flagpole which has been at Edinburgh Castle for more than 50 years has snapped in high winds.
The pole, which is on top of the Crown Square clock, broke in the early hours of Monday.
Work to fix a mechanism inside it, which had failed, had just been completed last month.
The castle was shut for a time on Monday morning, due to strong winds, but has now reopened. However, the area around the pole has been cordoned off.
The Union flag is raised every morning and lowered every evening.
The flag flies under Queen regulations because the castle is a military saluting station.
The flagpole is maintained and the responsibility of the MoD.
A spokeswoman speaking on behalf of the MoD and Historic Environment Scotland, who manage Edinburgh Castle, said: "We are aware that the flagpole at Edinburgh Castle has suffered damage last night following high winds.
"We are working closely with our contractors who are currently on site to ensure that the area is secure and safe as well as assessing how best to recover and repair the flagpole as quickly and safely as possible."