Bogus callers impersonated SSPCA officers in Livingston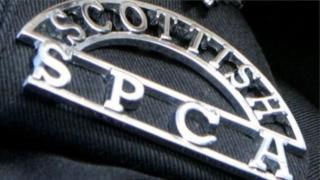 Police are appealing for information after two people impersonated Scottish SPCA officers to gain access to a house in Livingston, West Lothian.
The man and woman called at a woman's address in Fernbank at about 11:30 on Wednesday claiming to be from the animal charity and began asking about her dog.
The woman let them in after they presented SSPCA identification badges.
However, they left when she asked for an SSPCA reference number.
The man was white, in his late 30s, 5ft 9in tall, of stocky build, with a bald head and a west coast accent. He was wearing black trousers and a black jacket. He was also described as having a large scar to the left of his neck.
The woman was described as being of mixed race, 5ft 6in tall, of slim build, with dark hair. She was wearing black trousers and a black jacket and had tattoos of a flower and playing cards symbols on her left hand.
Full uniform
Sgt Iain Wells, of Police Scotland, said: "Fortunately on this occasion neither the dog nor the lady were harmed and nothing has been reported stolen.
"I would appeal for the public to be vigilant and ensure you ask for identification and if in any doubt do not let the persons in until their identity can be verified by the agency or company.
"Always remember that you are under no obligation to let a stranger into your home if you are unsure."
Scottish SPCA Ch Supt Mike Flynn said: "We are saddened to hear of people impersonating our inspectors who work hard to build positive community relationships.
"Under no circumstances will an inspector or animal rescue officer attend an address without full uniform and official identification. The Scottish SPCA uniform can be identified by the branded epaulettes and logo across the front of the jacket.
"If you are at all unsure about a visit made by one of our inspectors please call our animal helpline on 03000 999 999."
Anyone with information should contact police.