Man jailed over Mount Vernon Cemetery burial fraud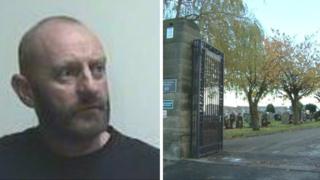 A former superintendent of an Edinburgh cemetery has been jailed for 16 months for illegally selling burial plots to bereaved families.
William Henderson, 46, earlier admitted carrying out the crime at Mount Vernon Cemetery between 2006 and 2015.
Henderson's £14,000 fraud offence affected 13 people.
Sheriff Donald Corke told him he had caused the "most enormous distress" and acted in the most "hypocritical and callous way".
Henderson conned people out of thousands of pounds by selling them burial plots, which either did not exist or which already contained remains.
At Edinburgh Sheriff Court, Henderson, from Bonnyrigg, was also ordered to pay back the money he had acquired illegally to the Catholic Archdiocese that run the cemetery.
'Betrayal of the trust'
Defence solicitor, Murray Robertson said Henderson had handed over £14,720 to the court so the Church would not be in loss.
His client, he added, was extremely realistic about what would happen to him and the misery and harm he had been responsible for.
When interviewed by the social work department he had been "tearful and emotional" and apologised for the grief and distress he had caused, the court heard.
An Archdiocese of St Andrews and Edinburgh spokesman, said: "Willie Henderson's criminal activities were a betrayal of the trust put in him by the Archdiocese of St Andrews and Edinburgh but also, and more disturbingly, a betrayal of the trust put in him by families who were grieving and vulnerable - that's why his crimes are so reprehensible and so regrettable.
"The Archdiocese of St Andrews and Edinburgh will continue to endeavour to provide both pastoral and practical support to those affected by Henderson's crimes.
"We have also put in place systems to ensure that such instances of fraud cannot happen again."
Det Ch Insp Paul Grainger, of Police Scotland, said: "William Henderson successfully obtained large sums of money from people mourning the death of loved ones and looking to have them buried within Mount Vernon Cemetery.
"At no point during our inquiries did Henderson show any remorse for his actions, or the impact his deception will have had on his victims.
"We took a sensitive and professional approach when interviewing those affected and are extremely grateful to everyone who assisted with our inquiries, particularly when they had to relive some painful memories in the process."