Religious order to stop nursing care in Edinburgh over lack of nuns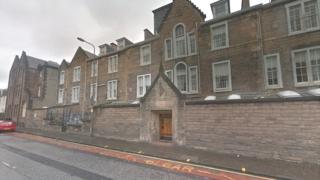 A religious order is to stop providing nursing care after 154 years in Edinburgh due to a shortage of nuns.
The Little Sisters of the Poor said they are to withdraw from caring for the elderly at St Joseph's House on Gilmore Place.
However, the group said they were fully committed to finding another care provider for the 48 residents.
The Little Sisters were founded in 1839 by Saint Jeanne Jugan.
The convent at Gilmore Place in Edinburgh is one of three homes the Sisters have in Scotland, the others being in Glasgow and Greenock.
'Similar ethos'
They are unaffected by the announcement.
Sister Kathleen Taylor, Mother Provincial of the Little Sisters of the Poor, said: "Due to the lack of vocations and the rising ages of the Sisters, we have been obliged to make this difficult decision, which has not been taken lightly and has been the object of much reflection and prayer.
"It could take a year before we find the right care provider and prepare for them to take over the running of the home.
"We want to find an organisation with a similar ethos to ours, who will respect your life here and provide you with the highest quality of care, love and respect that you need."