Astronaut Major Tim Peake's craft to go on show in Edinburgh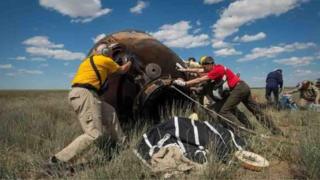 The spacecraft used by astronaut Tim Peake when he returned from the International Space Station (ISS) is to be displayed in Edinburgh next year.
Major Peake returned to Earth in the Soyuz TMA-19M module on 18 June 2016 after six months orbiting the globe.
While he was on the ISS, the European Space Agency astronaut conducted experiments, walked in space and even ran a marathon on a treadmill.
The module will be at the National Museum of Scotland from May to August.
The display also includes the capsule's 25m (82ft) parachute and a VR experience recreating the astronaut's return journey.
The capsule's exterior is still charred from re-entry into the Earth's atmosphere.
His mission took him on about 3,000 orbits of Earth, covering a distance of about 125 million km.
Major Peake said he was happy that people would have the opportunity to discover more about his Principia mission.
Dr Gordon Rintoul, director of National Museums Scotland, said: "We are delighted to be able to give our visitors the rare opportunity to see this spacecraft up close.
"The subject of space travel carries a universal and enduring fascination, and to have the chance to view an object which has transported astronauts safely back to Earth from space - enduring temperatures of around 1,500 degrees Celsius as it passed through the atmosphere - is truly awe-inspiring."
The 1.5 tonne Soyuz TMA-19M is the first flown, manned spacecraft in the UK's national space technology collection.