Small firm faces legal threat from L'Oreal over Naked name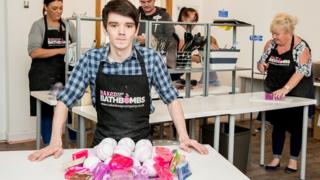 The owner of a small soap firm is vowing to fight attempts by a global cosmetics firm to make him remove the word "naked" from its name.
Garylee Rushforth set up the Naked Soap Company six months ago in Fife to manufacture bath bombs.
However, he has now been notified that French giant L'Oreal is threatening to oppose his use of the name.
L'Oreal, which has an Urban Decay Naked make-up range, believes it owns the trademark for the use of the word.
Mr Rushforth, 28, told the BBC Scotland news website that there was no similarity between the products.
"We produce bath bombs, not eye shadow or make-up, so there can be no confusion for customers," he said.
"I'm disappointed that a global corporation that must have started small like us at one time would want to penalise us.
"I'm also disappointed with a system that can have an entire monopoly over small businesses.
"Rebranding all our uniforms, delivery vans and contracts with stockists is a cost we can't bear and would cause us to shed jobs."
The Naked Soap Company, which has 12 employees, produces 5,000 bath bombs a week from its site in Dalgety Bay.
Mr Rushforth lodged an application to trademark his company's name in July.
This week he was informed by the Intellectual Property Office that L'Oreal was threatening to oppose that application.
The next step in the legal row would be a meeting between L'Oreal and The Naked Soap Company.
Mr Rushforth added: "We've had messages of support from around the world and therefore I'm determined to fight this.
"All this over one word is ludicrous."
A L'Oreal spokeswoman said: "As this matter is the subject of ongoing administrative proceedings we are unable to provide further comment at this time."