Edinburgh Zoo panda 'not having cubs'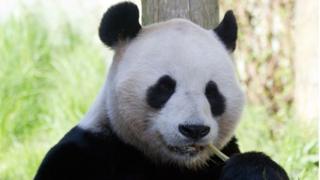 Edinburgh Zoo has announced that the female giant panda there will not give birth to cubs this year.
Earlier this summer there were indications that Tian Tian might be pregnant.
However, the team looking after her said her hormone levels and behaviour had returned to normal as the breeding cycle ended for this year.
It is the sixth time Tian Tian has failed to produce a cub after moving to Edinburgh Zoo in 2011.
Iain Valentine, director of giant pandas at the Royal Zoological Society of Scotland (RZSS), said: "It is with sadness that we can confirm Tian Tian, Edinburgh Zoo's resident female giant panda, will not give birth to cubs this year.
"I would like to thank the expert team of keepers, veterinary staff and others who have shown dedication and tenacity throughout the last nine months to ensure Tian Tian received the very best round-the-clock care."
'Life of captivity'
Barbara Smith, chief executive of the RZSS, said: "Giant panda breeding is an incredibly complex, unpredictable process. Over the next few weeks, we will be working closely with our Chinese partners to review not only this year's breeding season but all the scientific data from the past five years, to help us better understand this complex process.
"This year our expert team has gathered more information than ever, which will be shared with our partners both here in Scotland and across the globe for review and learnings to be applied."
Sarah Moyes, campaigner of animal rights group OneKind, said: "We hope today's announcement will mark the end of Edinburgh Zoo's attempts to impregnate Tian Tian.
"The panda has been subjected to years of unsuccessful breeding efforts, and surely now, it's time Edinburgh Zoo just left her in peace.
"We have always said that the decision to impregnate Tian Tian has been about PR with little regard to the interests of pandas or conservation, and had Tian Tian given birth this poor panda would have only known a life of captivity."