Queues on motorway as Queensferry Crossing reopens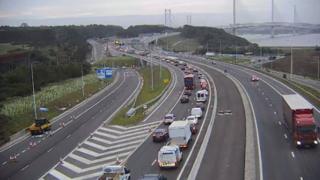 Queues have formed on the Queensferry Crossing during the morning and evening rush hours on its first day reopened to the public.
On Thursday morning, traffic was queuing back to Junction 2 Pitreavie on the M90.
In the evening there were delays on both approaches to the bridge.
Traffic Scotland said the delays were likely to be a combination of rush hour traffic and sightseers, with the poor weather not helping.
About 10,000 school pupils and community members walked across the bridge on Wednesday.
This was the last event before it permanently opened to motorists.
It came after a week featuring a light show, public walk and a royal visit to mark the opening of the £1.35bn bridge.
Stein Connelly, Traffic Scotland operator manager, said: "Demand for using the Queensferry Crossing when it first opened last week was very high.
"People were understandably coming to see the new bridge and this did lead to congestion."
Deputy First Minister John Swinney said: "The Queensferry Crossing is one of the biggest infrastructure projects of its kind in the world.
"To go from inception to opening in under a decade is a momentous feat of planning and engineering.
"The project has had a particularly strong focus on community liaison and hosted over 70,000 visitors, including 23,000 school pupils, at its dedicated contact and education centre."