Edinburgh Tram Inquiry: Witness tells of minister's anger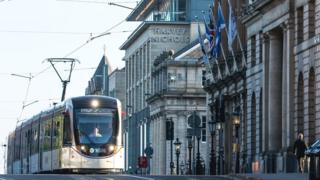 An Edinburgh council leader was told by the transport minister the government "hadn't just given £500m for a few holes in the road", an inquiry heard.
Jenny Dawe said she received the call at home from Stewart Stevenson after work ground to a halt due to a dispute between the operators and contractors.
The first public hearings are taking place of the Edinburgh Trams Inquiry.
It was set up in 2014 to establish why the project was delivered late and massively over budget.
In evidence before Lord Hardie, Mrs Dawe said the authority always took decisions based on the evidence before them.
She also spoke of her frustration at a "shroud of secrecy'' around some aspects of the project.
Mrs Dawe was council leader during a bitter feud between the council's arms length operating company and the main contractors.
She said she didn't feel her decision making at the time had been impeded but she had subsequently become aware of memos that suggested councillors were "kept in the dark" about certain details.
She was the first witness to be questioned publically about her role in the trams inquiry.
Hearings are scheduled for Tuesday, Wednesday and Thursday each week, with the process expected to span "several months".
---
The witnesses cited to appear are as follows:
Week 1 - beginning 4 September 2017
•Jennifer Dawe - council leader 2007-2012
•Lesley Hinds - former transport convener
•Ewan Aitken - council leader 2006-2007
•Donald Anderson - council leader 1999-2006
•Iain Whyte - leader of Conservative group
•Jeremy Balfour - former Conservative group leader
Week 2 - beginning 11 September 2017
•Duncan Fraser - former strategic projects manager
•Rebecca Andrew - former council accountant
•Nick Smith - former council solicitor
•Alan Coyle - former major projects manager
---
Lord Hardie said: "The oral evidence heard at the hearing will be used in conjunction with the wide range of evidence already gathered to inform my final recommendations.
"The inquiry team has already undertaken a substantial amount of activity including identifying, retrieving and reviewing more than six million documents and securing written statements from a significant number of witnesses. The hearing marks another important phase of this work."
The probe was set up in 2014 by the then first minister Alex Salmond.
It will supplement written statements from witnesses and the millions of documents already recovered during the course of investigations by the inquiry team.
The trams began operating at the end of May 2014 after six years of disruption and a long-running dispute between City of Edinburgh Edinburgh Council and contractors.
The eventual cost of £776m was more than double the sum earmarked for the project by the previous Labour-led administration.
Figures out at the end of last year showed the city's tram network is running at an average of 25% capacity.
The hearings are taking place at the inquiry's offices in Waterloo Place in the city.