'I was glad to count every step'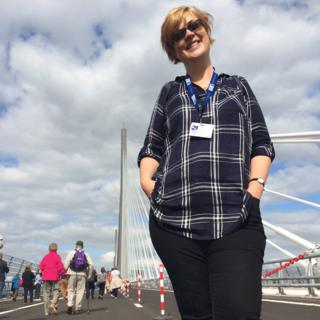 BBC Scotland arts correspondent Pauline McLean was lucky enough to be one of the 50,000 people whose name was selected to be one of the first to walk across the Queensferry Crossing.
Security is tight at Edinburgh Park, one of several transport hubs around the crossing.
It's the first time I've been asked to show my passport to get into Fife, but it's swift and friendly and before we know it, we're on a double decker bus for the 15 minute journey to the bridge itself.
The atmosphere is low key and friendly, a steady stream of families, babies in prams, elderly people using sticks and walkers, a large group in fundraiser T-shirts are already making their way across the new bridge - its suspension columns looming ahead in the afternoon sunshine.
'Very special opportunity'
The initial first few hundred yards are disappointing, the views along the Firth of Forth well and truly blocked by the 8ft high plastic barricades.
Walkers resort to taking pictures of each other, but as we walk further on, panels are removed at head height to allow us views out over Rosyth and downriver. That's better, says a young mum, who lifts two small boys up for a better view.
My own son, at 12, is slightly underwhelmed. A veteran of the M74 walk - when the extension road was closed for the day to allow pedestrian access - maybe he feels the "once in a lifetime" opportunity has slightly oversold the experience.
It is, as one headline put it, "just a bridge, get over it."
And yet, to stand beneath those concrete towers, and suspension wires, is a very special opportunity.
There's no distraction - no bands or banners. This is about the bridge - and it's a rare chance to get up close and personal and think for a moment about the sheer scale of what was involved in building it.
There's a quiet awe among those strolling along, no-one rushing to get across.
Back on the bus, we head back across the Forth Bridge, the rail bridge shimmering on the left, the new Queensferry Crossing on the right. Three feats of design and engineering from three different centuries, which for two days at least have been seen from a new perspective.
Next time, like most of you, I'll probably be in my car, barely registering the 1.7 mile crossing. Today, I was glad to count every step.