Seventy jobs lost as law firm Pagan Osborne folds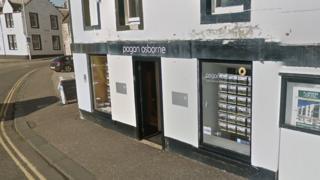 Seventy jobs are being lost after one of Scotland's oldest laws firms went into administration.
Pagan Osborne Limited, which is based in Fife, employs 123 staff.
The assets and work have been taken on by Dundee-based law firm Thorntons, which is also saving 50 of the jobs.
Pagan Osborne's offices in Edinburgh, Cupar and St Andrews will close while the Anstruther office will be rebranded as Thorntons. The 70 redundancies will affect all the offices.
A 45-day redundancy consultation period will start next week.
Tom MacLennan, partner at FRP Advisory and joint administrator, said: "We are delighted that Thorntons has acquired the assets, goodwill and work-in-progress of Pagan Osborne, thus ensuring continuity of client service, providing employment opportunities and safeguarding client funds.
"We wish the newly enlarged business every success."
'Uncertain time'
Lorna Jack, chief executive of the Law Society of Scotland, said she was "very sad" to hear the news.
She added: "It represents the loss of a long-established and highly-regarded Scottish law firm operating across Fife and Edinburgh.
"We understand that most of Pagan Osborne's staff, including all trainee solicitors, will transfer to Thorntons but there are to be redundancies following a consultation period, making this a difficult and uncertain time for everyone affected by this announcement.
"There has been ongoing, significant change within the legal services sector which, combined with a challenging economic environment, continues to have an impact on law firms."
Craig Nicol, joint managing partner of Thorntons, said: "Pagan Osborne was a long-standing, highly-respected firm with a high profile in Fife and Edinburgh.
"Our priority will be to provide a seamless transition for clients and to preserve the maximum number of jobs.
"We will be in contact with all Pagan Osborne clients imminently and I would seek to reassure them that they will receive continuity of service from the newly-enlarged Thorntons team for their legal or property matters in the coming days and weeks."