Huge sleepout event planned for Edinburgh to help homelessness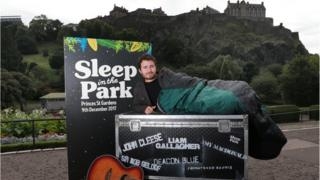 The "world's largest ever sleepout event"- billed as a Live Aid for Scottish homelessness - is to take place in Edinburgh.
Sleep in the Park will be held in West Princes Street Gardens on 9 December.
It is hoped 9,000 people will take part in the sleepout, which will see Liam Gallagher, Deacon Blue, Amy Macdonald and Frightened Rabbit play unplugged.
Comedian Rob Brydon will host the event with John Cleese performing a bedtime story.
Celebrities including Bob Geldof, sports personalities and figures from across Scotland's political parties will also be sleeping out.
It is being organised by Josh Littlejohn, co-founder of Social Bite, which helps the homeless through cafes, a restaurant and fundraising events.
Thousand households
No tickets will be sold, with members of the public and businesses joining the event by reaching fundraising targets and accepting the sleep-out challenge.
As well as fundraising, Social Bite is encouraging businesses throughout Scotland to pledge employment opportunities for homeless people with a target of 1,000 job offers.
The organisation is also hoping that at least 1,000 households will open their doors and offer up a spare room for a short period of time to help people find their feet with a "supported lodgings" programme.
Josh Littlejohn said: "By taking part in Sleep in the Park, you will be joining a movement to end homelessness in Scotland for good.
"We believe by working together, homelessness could be eradicated in Scotland within five years.
"We are planning to work closely with The Scottish government and other charities throughout the sector to create a five-year action plan which will provide housing, rehabilitation, job opportunities and the support that homeless people need to get back on their feet.
"We want to make Scotland an example for the whole world to follow. We're a small country; a nation of innovators.
"The statistics of homelessness in Scotland are not insurmountable - we only need to help 11,000 people back to their feet. Together we can do that. So, whether as a business, a family or an individual - join our sleepout."
'Game changer'
Bob Geldof said: "When we launched Live Aid in 1985, it showed the power of music and events to create real and important social change.
"I first met Josh and Alice from Social Bite five years ago and I am delighted to support them and their effort to eradicate homelessness in Scotland by sleeping out in the cold at the event.
"The event has the potential to be a game changer in tackling the issue and I am right behind it, even if a little nervous to brave a cold Scottish winter's night. I know Scotland to be a compassionate nation and I would implore you to get involved."
Liam Gallagher said: "Ever since Oasis got signed in Glasgow at King Tuts, Scotland has always had a special place in my heart.
"The fans are among the best in the world. I'm looking forward to playing in Edinburgh and supporting this charity. I hope the event helps as many people back on their feet as possible."
The City of Edinburgh Council leader Adam McVey, deputy leader Cammy Day and chief executive Andrew Kerr are all sleeping out for the charity.
Mr McVey said tackling homelessness remained a priority for the council
He added: "We welcome this fantastic event in the heart of the city. The Social Bite team already do so much good work for homeless people across this city and throughout Scotland. We look forward to continuing to work with them on the Social Bite Village and future projects."
The event is being produced by Edinburgh-based Unique Events.