Former Black Watch captain swaps military for ministry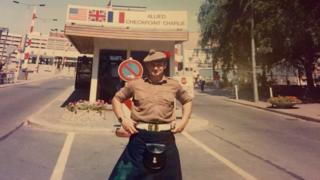 During an illustrious career in the British Army, Peter Sutton served in Northern Ireland, Berlin and Hong Kong.
He was on guard duty when Hitler's deputy, Rudolf Hess, died at Spandau prison and he witnessed some of the worst of the Troubles.
But now the former Black Watch captain has swapped life in the military for one in ministry.
And the new Reverend Peter Sutton has been inducted to his first parish - St Cuthbert's in Edinburgh.
It is a prestigious posting for the new minister, who has worked as a school chaplain and headmaster since leaving the Army in the early 1990s.
Located at the west end of Princes Street Gardens, close to Edinburgh Castle, it is known as the Kirk of the Castle Rock.
It is a far cry from his life in the armed forces, a career he committed himself to while he was still at school.
"I'm glad I did [join the army]," the 51-year-old said. "But during my time in the Army I started think that - particularly in Northern Ireland - that the role of the chaplain in the Army looked like a really fulfilling one.
"There were lots of people who could do the job like me as a platoon commander but there weren't that many coming forward to be chaplains. I saw it in the long-term more rewarding than continuing down the armed route."
His memories of his time in Northern Ireland are vivid.
"I'll never forget sitting down in South Armagh in my patrol base, which was surrounded by big walls - breeze blocks to protect us - myself and my platoon sergeant watching incredulously as this wall in Berlin that we'd been patrolling literally two months ago suddenly came down," he said.
"And here we were surrounded by walls in our country which at that time never seemed like coming down at all."
A couple of days later, a chaplain arrived at their base to help a tough corporal devastated by the loss of his grandmother.
Reverend Sutton said that he had been unable to help the officer as he was about to go out on patrol for three days.
"It was at that point that I decided that [being a chaplain] was what I really want to do because you can get to work with people like [this officer] on a much more deep and meaningful level than I ever can," he added.
"I can always give an order and tell him what to do but you as chaplain can be alongside him and be there for him in a totally different way."
The decision marked the end of a decade-long military career which not only coincided with the fall of the Berlin Wall, but also the death of Nazi Rudolf Hess in 1987.
After being convicted at the Nuremberg war crimes trials, Hess was jailed at Spandau Prison in Berlin, where he was the sole inmate from 1966.
He killed himself in 1987, when Reverend Sutton - then a platoon commander - was patrolling the outer perimeter of the jail.
With a colleague, he took the opportunity to walk through the prison's gardens and they eventually found Hess' own garden - complete with a summer house.
"Inside it was all set up like a library, there was a rocking chair and an oxygen cylinder on a trolley," he said.
He said he and the other man suddenly felt they had to get out really quickly.
He said: "We had to walk the whole way back and I'll never forget the conversation when we finally got back to the main guard house.
"Something along the lines of 'That just felt so evil, standing there, surrounded by evil'."
In the intervening years, the father-of-five who was already an ordained Church of Scotland elder, worked as a chaplain at schools, including the Prince of Wales' alma mater Gordonstoun School in Moray.
It was when he was headmaster at Ardvreck School in Crieff, he took the decision to become a minister.
His first application to the Church was unsuccessful but he believes that disappointment helped him become a better minister when he made it through his second assessment.
"I realised that being a minister in today's Church of Scotland isn't so much being the leader, general, army officer-type, it's more being the wounded healer, being alongside people, sharing your failures and disappointments so that you can understand theirs," he said.
"And then together see a way forward. That was quite a steep learning curve that it was probably more in your brokenness you can actually minister to people then offering a successful, complete package."
His ordination and induction into the Edinburgh parish in June may have surprised those who knew him in his army days - but it seems to have been part of long-term plan by the young Peter Sutton.
"I remember as a young boy writing down how I saw my life going. There was definitely a lot of army in it but at some point there was this sense that I wanted to be a minister.
"Now I have a good 15 years of this part of my professional life ahead of me, to make a difference to the good."