Edinburgh Zoo panda 'not giving birth' imminently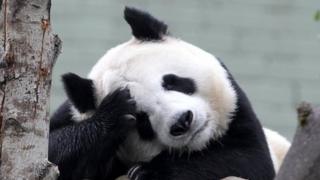 Edinburgh Zoo has said it does not expect its female panda Tian Tian to give birth on Friday.
Correspondence between Edinburgh Zoo and the Scottish government had suggested this could be the due date.
A spokesman for the zoo has said it is hard to predict a specific date for any cub being born, and that the breeding season can last until late September.
Tian Tian, who arrived at the zoo in 2011, was artificially inseminated earlier this year.
A spokesman for the zoo said: "We can confirm our female giant panda, Tian Tian, will not be giving birth today.
"Breeding pandas is exceptionally complex and we anticipate that her breeding cycle will continue into September.
"We're closely monitoring Tian Tian and we will share any news as soon as possible."
Reproduction 'difficult'
Panda reproduction is a notoriously difficult process, with females only ovulating once a year.
Tian Tian was sent to Edinburgh as part of a breeding pair with Yang Guang.
They are the only giant pandas living in the UK.
They arrived on loan from China in December 2011 and are due to remain at Edinburgh Zoo for a decade.
The zoo first announced it was in negotiations to bring a pair of giant pandas to Scotland in 2008.
The pair were brought to the UK under an agreement between the UK and Chinese governments.
Described as a gift from China, they were the first giant pandas to live in the UK for 17 years.
---
Baby panda facts
At birth, a cub is just 1,000th of its mother's weight at about 5.3oz (150g). Giant panda foetuses do not start to develop until the final weeks of gestation
Panda cubs are born pink and covered in short, sparse white hair, their eyes are tightly shut and they cry loudly and often
Their black patches start to appear at about one week old, followed by black hair on the patches a few weeks later
It is several weeks before they can crawl and cubs spend the first few weeks of life vocalising their needs to their mother, sleeping and suckling
Panda mothers lick their cubs often and do not leave the cub to eat bamboo until offspring are three to four weeks old. At this point the cubs can regulate their body temperatures and do not need constant body contact from the mother to keep warm
After a month, the cub looks much more like a miniature adult giant panda but with a longer tail
Baby pandas' eyes open partly after 30 to 45 days and fully open a week or two later
Panda cubs grow to up to 10 times their birth weight in the first five to six weeks
---