Killer jailed two violent attacks in Edinburgh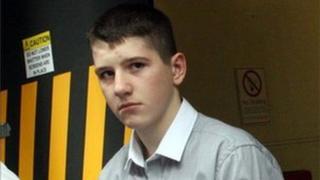 A man who spent three years in jail for killing a takeaway driver in Edinburgh has been jailed for five years and four months for his role in two further violent attacks.
John Reid was 16 when he killed Simon San with a single punch outside the San family's restaurant in Lochend in 2010.
He was convicted of culpable homicide and sentenced to five years detention but was freed after three years.
He pleaded guilty to punching a woman on the head in Muirhouse on 1 March.
He also admitted robbing a man at knifepoint at the victim's home in Edinburgh on 9 March.
In the second attack, Reid, 23, was helped by Michael Roberts, 22, who also admitted being involved in the robbery.
The court heard how at the time of the offences, Reid was on bail for another matter while Roberts was on a curfew.
'Terrifying incident'
On Wednesday, at the High Court in Edinburgh, judge Lord Burns also ordered that Reid be supervised for a period of three years following his release from custody.
Roberts was handed a three year jail sentence for his role. He was also ordered to be supervised by the authorities for one year following his release from custody.
Judge Lord Burns told the two men he had no other option but to send them to prison.
Speaking about the attack on the second man, Lord Burns said: "This must have been a terrifying incident for the complainer.
"You barged into his house brandishing a knife and threatened him. You Reid were assisted by Roberts in this enterprise.
"You both have a substantial number of previous convictions for very serious offences.
"The only sentence I can impose in this case is one of custody for both of you."
Roberts's solicitor advocate Euan Roy told Lord Burns that his client had a troubled childhood. The court heard Roberts had never seen his own child.
He added: "He is a father at the age of 22 but he has never seen his son."
Reid's solicitor advocate Jim Stephenson told the court that his client was determined to turn over a new leaf. Mr Stephenson said Reid would spend his time in custody learning new skills.