Killer admits two violent attacks in Edinburgh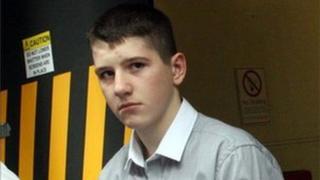 A man who spent three years in jail for killing a takeaway driver in Edinburgh has admitted two unprovoked violent attacks.
John Reid was 16 when he killed Simon San with a punch outside his family's restaurant in Lochend Road in 2010.
Reid, 23, pleaded guilty to punching a woman repeatedly on the head in Muirhouse Gardens on 1 March this year.
He also admitted robbing a man at knifepoint at his home in Gibson Terrace, Edinburgh, on 9 March.
At the High Court in Glasgow, he also admitted a charge of resetting a motor bike on 1 March.
Co-accused Michael Roberts, 22, from Edinburgh, admitted being involved in the robbery.
Prosecutor Duncan McPhie told the court shortly after Michael Glancy withdrew £250 from a nearby ATM his the entry buzzer to his flats went off at 18:10 and a man said: "It's John, Mickey."
Bread knife
Mr McPhie said: "He assumed it was his friend John and allowed entry and opened his door. "
The court was told Roberts pushed his way in with a bread knife with a four-inch blade in his hand and Reid also entered the flat.
Roberts shouted: 'Where's your money?' while waving the knife. Then both accused began pushing and pulled him around the house, demanding to know where the money was.
The court heard Roberts removed £250 in cash which was lying on a worktop and Reid searched through kitchen cupboards and drawers. They then left.
Reid and Roberts were identified as the robbers by police who viewed CCTV cameras in the area.
The attack on Louise Ferguson by Reid happened at about 21:00 after she challenged him about a motor bike he was revving excessively.
She knew through a social media alert that the bike had been stolen. When she got out of her car and approached Reid he punched her twice on the left side of her face.
At the time of the offences Reid was on bail and Roberts was under curfew.
Judge Lord Burns called for background reports and an assessment of the risk they pose to the public.
Lord Burns deferred sentence until next month at the High Court at Livingston.
Reid killed Simon San outside his family's Yong Hua Garden Chinese takeaway.
Simon, 40, who was of Vietnamese origin and came to Scotland aged 12, was attacked by a gang of youths which included Reid.
Reid was convicted of culpable homicide and sentenced to five years detention. He served three years.