Edinburgh school death inquiry: Wall 'not fit for purpose'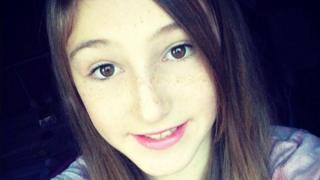 A wall that collapsed on an Edinburgh school pupil and killed her was not with hindsight fit for purpose, a court has heard.
Fiscal depute Gary Aitken made the comments during his closing submission in the fatal accident inquiry into the death of 12-year-old Keane Wallis-Bennett.
The first year pupil died at Liberton High School on 1 April 2014.
A free-standing modesty wall in the PE changing room crushed her.
Mr Aitken told Edinburgh Sheriff Court the inquiry had heard evidence the wall, said to have been built in the 1950s, was cracked before the incident, and it had fallen as a result of having "lateral force" applied to it which pushed it beyond its "tipping point".
'Terrible accident'
In statements to the police, some pupils declared they had told teachers, before the accident, that the wall was "wobbly", but teachers denied they had been told this and said if they had they would have reported it to the janitors.
The procedure at the school was that any faults were to be reported to the janitors.
Sheriff Principal Mhairi Stephen QC told Keane's mother, Abbie Wallis, that all who had heard the evidence had been affected by the terrible accident.
She said: "We have to express empathy and sympathy to you. None of us can understand your grief."
She praised the very dignified way in which Ms Wallis and Keane's father, Clark Bennett, had behaved in their quest for answers and their love for their daughter. Mr Bennett was absent due to work.
Fiscal Depute, Gary Aitken, praised the parents' courage, saying that it must have been very difficult for them to listen to the evidence, but he hoped it had been of some assistance.
He said: "A fatal accident inquiry is a fact-finding exercise, not a fault-finding exercise or to apportion blame. It is to learn and prevent a similar tragedy happening again."
The inquiry, he added, had to rely on the evidence that was available rather then speculation.
The fiscal said it was possible there were other schools and public buildings with modesty walls in Scotland and the UK and they would be looked at and perhaps removed or replaced.
Sheriff Stephen told Ms Wallis she would give her determination as soon of she possibly could.