Edinburgh book festival to look at political 'earthquakes'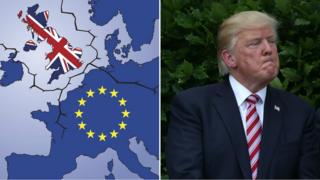 Reflections on recent political "earthquakes" will be at the heart of this year's Edinburgh International Book Festival (EIBF), organisers said.
Themes such as Brexit and the election of Donald Trump are expected to loom large as writers try to "make sense" of recent events.
The August event will also explore topics such as truth and post-truth, terrorism, gender and identity.
The festival will feature more than 1,000 authors from 50 countries.
It will run from Saturday 12 August to Monday 28 August in Edinburgh's Charlotte Square Gardens.
Unveiling 2017's offerings, EIBF director Nick Barley said: "This year's festival programme goes under the name Brave New Words in response, I think, to the fact that we are living through strange political times. One of the sub-themes of the programme is 'the age of political earthquakes'.
"When we started thinking about this programme over a year ago we could see that there were some unusual political decisions in the offing - Brexit had just happened and the possible election of Donald Trump seemed to signal that we might be in for some unusual times.
"The book festival's approach [is to] try and make sense of our position in the world in this age of political earthquakes by using writers as a lens through which to look at the world."
Founded in 1983, the EIBF is half the age of its fellow festivals, the Edinburgh International Festival (EIF) and the Edinburgh Festival Fringe.
But the fact that the Scottish capital is celebrating its 70th anniversary as a festival city is reflected in the EIBF programme.
Organisers said that there would be participants from more than 50 countries attending the festival.
Nigerian author Chimamanda Ngozi Adichie will debate the role of women in the world with Scotland's First Minister Nicola Sturgeon, and Andrew O'Hagan will deliver a keynote lecture on the future of Scotland.
Others coming to Edinburgh to tell their own personal stories include foreign correspondent John Simpson, journalists Anna Pasternak and Jeremy Paxman, actors Stephen McGann and Charlotte Rampling, and Baroness Warsi, the UK's first Muslim member of the Cabinet.
Yazidi teenager Farida Khalaf will tell the story of being kidnapped and sold into slavery by Islamic State in 2014, while politician Harriet Harman and tennis coach Judy Murray are among the others appearing.
Yrsa Sigurdardottir from Iceland and Arne Dahl from Sweden are among the 62 crime writers appearing in 2017, along with UK authors such as Ian Rankin, Denise Mina, Alex Gray and Lin Anderson.
---
New book festival venues
Edinburgh International Book Festival events will be held in several venues outside of its traditional "home" this year.
The King's Theatre and St Mary's Cathedral in the west end will host events, as will two new venues in George Street - the Bosco Theatre and The Greenhouse.
Festival director Nick Barley said: "We're adding new venues in George Street as an explicit way of trying to reach out, particularly in this anniversary year, to attract new audiences who may not yet have come into Charlotte Square Gardens."
He stressed the move is an expansion and does not signal a reduction of activities within the gardens.
He said he was also aiming to evolve the "stereotypical idea of what a book festival event is", and said this year's programme includes more spoken word events and some featuring music.
---