Flying Scotsman begins second Scottish tour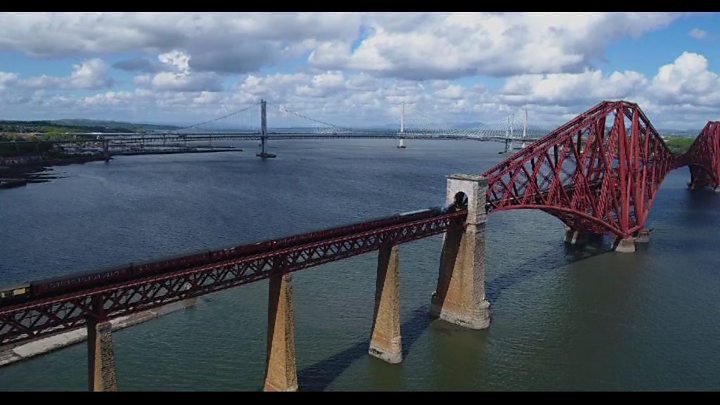 The world's best known steam engine has crossed Scotland's best known bridge on its second trip to the country since it was restored.
About 800 passengers have booked trips on the Flying Scotsman which steamed out of Edinburgh Waverley on Sunday.
The engine travelled over the Forth Bridge for a tour of the Fife coastline before returning to Edinburgh.
Hundreds of enthusiasts turned out to catch a glimpse of the famous engine which was restored last year.
The Flying Scotsman, which is based at the National Railway Museum in York, made its first post-restoration visit to Scotland a year ago.
Hundreds of enthusiasts lined the route and were later praised for their responsible behaviour.
However, the engine's inaugural run in northern England in February 2016 was marred when some fans put themselves in danger by encroaching on to the track.
Additional staff were deployed at key stations and along the engine's route for the locomotive's latest visit to Scotland and the Network Rail helicopter was deployed to scan for trespassers.
Claire Newton, from the tour operators Steam Dreams, said there was enormous interest in the locomotive which recently topped a poll of the world's best known steam engines.
She said: "For many people this is the trip of a lifetime and some have been on waiting lists for this trip since February 2016."
The Flying Scotsman was the first steam engine authenticated at travelling at 100mph in November 1934 though it had been claimed that another engine, City of Truro, travelled at 102mph in 1904.
There was no second timekeeper on the earlier run so the Flying Scotsman holds the official record.