Sheku Bayoh's family vow to keep fighting two years after his death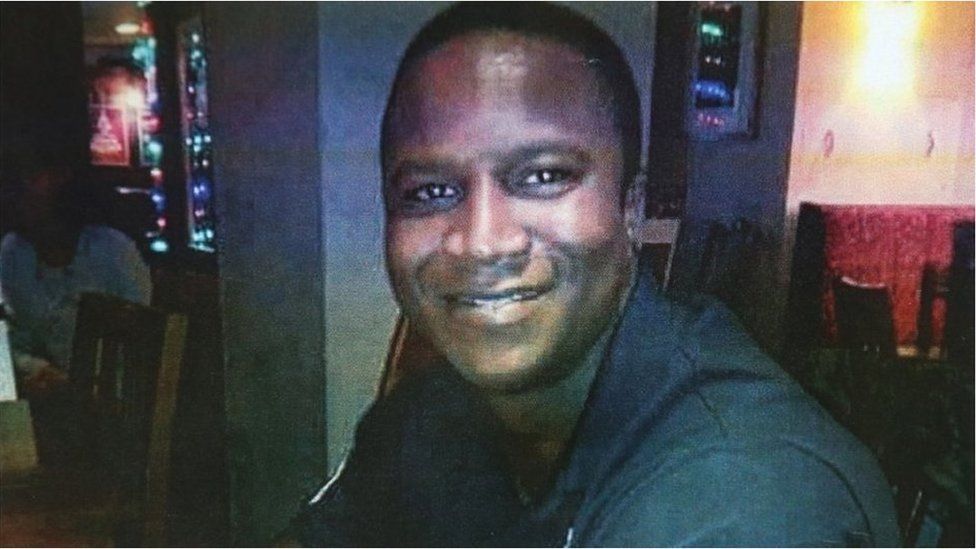 The family of a man who died in police custody exactly two years ago have vowed they will "never give up fighting" to find out what happened.
Kadi Johnson said her brother Sheku Bayoh had been "brutally taken" from the family but they still had "no answers" regarding his death.
The 31-year-old died after being restrained by officers responding to a call in Kirkcaldy, Fife, on 3 May 2015.
He was under the influence of drugs at the time of the incident.
The Police Investigations and Review Commissioner (Pirc) submitted a report into the incident to the Crown Office in August last year, and a fatal accident inquiry is due to take place, regardless of whether there are criminal proceedings.
In a statement to mark the anniversary of the death, Ms Johnson said: "Two years has gone by, no answers yet. We are still waiting to hear the truth about how our only brother was brutally taken away from us.
"For my family and I, Sheku's death will haunt us for a lifetime, but all we have left is the beautiful memories we shared during his short life."
She added: "For the past two years so much has happened and I have struggled to deal with things as Sheku is no more.
"My mother has not been keeping well just thinking of her baby and only son, how he died and why. I speak for myself and the rest of the family when I say that our lives have changed and we feel the emptiness without Sheku."
She thanked those who had supported her family, and said: "May the almighty God continue to bless all those who had supported us through this journey. We will never give up fighting for the truth."
The family's solicitor Aamer Anwar said: "Over two years I have seen the devastating toll wreaked upon a family forced to set up a campaign simply to get the truth.
"Yet no matter what obstacles are placed in their path, no matter what lies or smears are attempted, they are determined never to give up."
A Crown Office spokesman said: "The Pirc report has been carefully considered.
"The Crown requires to undertake further work of its own before a decision can be made as to whether or not there should be any criminal proceedings. That work is in hand.
"We will continue to liaise with the nearest relatives of the deceased's family to ensure that they are kept fully informed of the progress of the investigation."