Council criticised over poster advertising in Edinburgh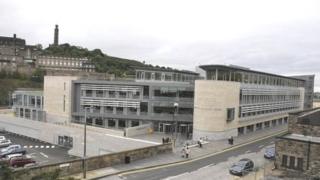 Edinburgh's local authority has been criticised for the way it handled complaints about a poster advertising scheme.
The project began as a pilot in 2003, but has never been reviewed.
The public services ombudsman said the council failed to address complaints about it.
Multi-sided drums for small advertising posters were introduced in a pilot project which was supposed to be reviewed after a year.
This never happened, and over the next 12 years more appeared throughout the city.
A man, identified only as Mr C, complained on several occasions about the project management.
However, the authority failed to respond in a reasonable length of time, and did not answer one of his complaints at all.
The public services ombudsman criticised the council, and said it could not show whether the advertising drum project was successful or not.
He has ordered it to apologise to Mr C and review its management of advertising projects in the city.
A City of Edinburgh Council spokeswoman, said: "We note the conclusions of the report and we will be complying in full with its findings.
"An external investigation has already been instructed in relation to this matter."