Toddler assaulted on board train from Edinburgh Waverley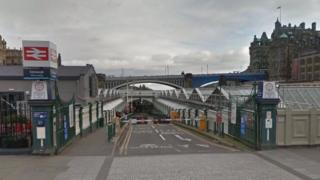 A toddler has been assaulted on a train from Edinburgh Waverley to Peterborough.
British Transport Police issued a CCTV picture of a man they wish to speak to in connection with the incident on Sunday 12 February.
It happened on board the 16:00 Virgin East Coast service.
The white man is 5ft 10in, in his late 30s and of a large build. He has short black spiked hair and was wearing glasses and white polo shirt.
He was also wearing a dark coloured jacket, a thick metal chain around his neck, dark grey jeans and white trainers.
He has a tattoo on his right arm and has a north-east English accent.
Anyone who recognises him is being urged to contact the police.